What last night's forum taught us about Trump and Clinton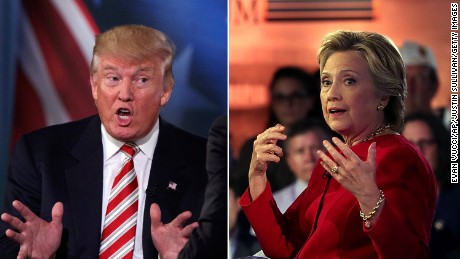 Washington (CNN)One thing is now clear: Voters face the starkest choice in generations about America's place in the world and how it leads.
Dueling appearances by Donald Trump and Hillary Clinton at a national security forum on Wednesday night previewed the dilemma that will be laid before the nation in three upcoming presidential debates.
The Republican nominee, freed from the teleprompter on which he has relied in recent weeks, hinted at a gut-driven, personality-heavy style of leadership and unpredictable strategic positions. They are approaches that widely diverge from generations of presidential behavior on the world stage.
A defensive Hillary Clinton, meanwhile, assumed the traditional posture of a tough yet temperamentally steady would-be occupant of the Oval Office.
While foreign policy rarely decides US elections, the differences between the candidates on display at NBC's commander in chief presidential forum suggest the result in November has the potential to set the US and the world on an uncharted course come January. So the stakes are monumental as the candidates prepare to go head-to-head at the potentially pivotal first presidential debate on September 26 at Hofstra University, New York, expected to draw millions of viewers around the country and the world.
The contrasting appearances showcased one reason why representatives of many foreign governments in Washington are perturbed about how a Trump presidency would impact the rest of the world. But that factor has yet to sway this year's campaign, as Trump makes the audacious gamble that voters — disenchanted with the political establishment and wearied by 15 years of war abroad — will throw out the status quo in favor of something radically different.
Clinton faces her own challenges. Given that she steered US foreign policy while running the State Department for four years, she has the more complicated task of defending her own record — and her decision to use a private email server as secretary of state — while articulating how her stewardship of global affairs would differ in areas in which President Barack Obama has been criticized. That dynamic was on display Wednesday and will play out to an even greater degree during the presidential debates.
In perhaps the most stunning sequence of the forum, Trump argued that Russian President Vladimir Putin — a strongman accused by human rights groups of presiding over domestic repression, war crimes in Syria and violations of international law in Europe — was a better leader than Obama.
"Well, he does have an 82% approval rating," Trump said.
When challenged on Russia's invasion of Crimea, support for President Bashar al-Assad in Syria and allegations that Russian hacking is designed to influence the US elections, Trump responded: "Do you want me to start naming some of the things that President Obama does?"
Asked by host Matt Lauer about Putin's compliments to Trump, the candidate responded, "Well, I think when he calls me brilliant, I'll take the compliment, okay? … If he says great things about me, I'm gonna say great things about him."
He continued, "I mean, the man has very strong control over a country. And that's a very different system and I don't happen to like the system. But certainly in that system he's been a leader, far more than our president has been a leader."
The exchange could well be the first time in living memory that a candidate appeared to side with an American global adversary over a sitting president.
Clinton, who has endured a rough patch after failing to shake off the controversy over her private email server and seeing her lead over Trump narrow in opinion polls, sought to capitalize on what her campaign views as serious missteps by Trump on Wednesday.
In a news conference, Clinton suggested that Trump's comments were "unpatriotic."
"It suggests he will let Putin do whatever Putin wants to do and then make excuses for him," Clinton said.
Later in North Carolina, Clinton accused Trump of behaving like national security was his "own celebrity reality TV program."
"We have never been threatened by a single candidate running for president as we have been in this election," she said.
Trump hit back hard in his own campaign event, in Ohio, accusing Clinton of sowing death and extremism in the Middle East and of putting the United States at risk with her email server.
"She went on the tarmac and told more lies," he said, and accused the former secretary of state of failing to take responsibility for the deaths of four Americans in Benghazi, Libya in September 11, 2012.
Trump also denied claims that he backed the Iraq War, pointing to an interview he gave with Esquire magazine in August 2004, over a year after the war started, when he said that the conflict was a mess and that he would never have handled the situation the way the Bush administration did. He also said that, unlike Clinton, he would have voted against the war.
However, in an interview with Howard Stern in September 2002 before the war began, he was asked whether he supported the idea of an invasion.
"Yeah, I guess so," Trump replied.
On Wednesday, Trump did not confine his rejection of political norms to Putin. He also made comments that could be interpreted as criticizing the military.
He appeared to suggest that once he took office he would conduct a wholesale clear out of Pentagon generals who had worked for Obama, the same military brass he has said earlier Tuesday he would ask for a new plan to fight ISIS within 30 days of taking office.
"Well, they'll probably be different generals, to be honest with you," Trump said.
"I think under the leadership Barack Obama and Hillary Clinton, the generals have been reduced to rubble. They have been reduced to a point where it's embarrassing for our country," Trump said.
Trump also spoke about the intelligence briefings he receives from US covert agencies as a presidential candidate in a way that would be unthinkable for most nominees, injecting partisanship into a process that is supposed to be immune from politics.
He suggested that intelligence officials tasked to brief him were critical of the way Obama had handled US national security: "I'm pretty good with the body language. I could tell they were not happy. Our leaders did not follow what they were recommending."
Trump additionally courted controversy by repeating his assertions that the US should have kept Iraq's oil after the invasion in 2003 to ensure that to the victor go the spoils. He also defended a previous Twitter comment in which he suggested rapes in the military were the result of an increase in female recruits.
So controversial was Trump's performance that it could overshadow Clinton's lackluster showing.
The former secretary of state, plied with questions about her private email server, seemed defensive and unwilling to abide by time constraints on her responses.
And cloaking herself in the conventional mantle of experience and sobriety for a commander in chief distinguishes her from Trump but might not jibe with public anger at the Washington establishment and antipathy toward the foreign policy decisions of the last 15 years, such as the Iraq War and the current effort to combat terrorism.
She described herself as offering "steadiness. An absolutely rock steadiness" mixed with "strength to be able to make the hard decisions."
"When you're sitting in the Situation Room, as I have (been) on numerous occasions, particularly with respect to determining whether to recommend the raid against bin Laden, what you want in a president, a commander in chief, is someone who listens, who evaluates what is being told to him or her, who is able to sort out the very difficult options being presented."
Clinton admitted that her Senate vote in 2002 to authorize war in Iraq was a mistake, but pointed out that though Trump says he always opposed the conflict, he was on record as backing it at the time.
She said that defeating ISIS would be her "highest terrorism goal" and advocated a mixture of air power and regional alliances to achieve it, while ruling out the deployment of ground troops to Iraq and Syria.
That comment ignored the fact that there are already hundreds of American troops in Iraq and Special Operations Forces on the ground in Syria.
Clinton's performance earned poor reviews and suggests that she has work to do before the first debate on September 26.
Trump's controversial comments, however, rocketed around the world.
At a Southeast Asian conference in Laos, Obama warned that Americans must not allow themselves to become immune to the torrent of controversy coming from Trump's lips.
"People start thinking behavior that in normal times we would consider completely unacceptable and outrageous becomes normalized," Obama said. "I can tell you from the interactions I have had over the last eight or nine days with foreign leaders that this is serious business."
He added, "You actually have to know what you are talking about and you actually have to have done your homework."
The Clinton campaign is looking to make the same argument.
"I think voters really saw that difference," Clinton campaign manager Robby Mook said on ABC's "Good Morning America," accusing Trump of insulting US generals and showering praise on Putin.
But one of Trump's top foreign policy advisors, retired Lt. General Michael Flynn, justified his candidate's comments by saying there was a "lot of frustration" in the military at Obama's policies.
He also said that if the administration had been "smarter," it could have prevented Russia's re-engagement in the Middle East in Syria.
RNC Chair Reince Preibus, for his part, took aim at Clinton's demeanor, saying she was on the defensive over the email controversy that Republicans believe should disqualify her from serving as president.
"@Hillary Clinton was angry + defensive the entire time no smile and uncomfortable," Preibus wrote in a tweet.
Clinton supporters quickly took to Twitter to accuse Priebus of making a sexist remark.
And the Clinton campaign responded in its own tweet: "Actually, that's just what taking the office of President seriously looks like."
Read more: http://www.cnn.com/2016/09/08/politics/donald-trump-hillary-clinton-national-security-forum/index.html