Vladimir Putin: 'Russia must protect its athletes'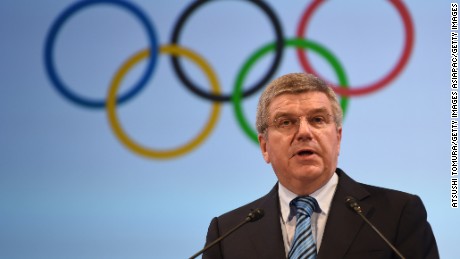 (CNN)After a slew of uncomfortable headlines over alleged state-sponsored doping, the man who leads the organization that oversees the Olympics Games predicted that Russia would be cooperating to ensure its participation at Rio 2016.
And so far, International Olympic Committee president Thomas Bach has been proven correct.
In his first comments since the scandal became public, Russian President Vladimir Putin said Wednesday that his country will conduct its own investigation and will cooperate with international sports governing bodies, according to state news agency Sputnik News.
According to a Sputnik News translation, Putin said: "[Russia] must do everything possible to protect [its] athletes from banned substances … as the competition should be fair and promote sportsmanship."
Putin was addressing the heads of Russian sports federations at a meeting in Sochi.
Bach had earlier said he expected Russia to be "compliant" with global doping regulations in time for its athletes to compete at the next Olympic Games.
Speaking to New Zealand television channel 3News, Bach said he wouldn't "speculate" on whether Russian athletes should be banned from the 2016 Games after a damning report alleged state-backed cheating.
He said it would be up to the International Association of Athletics Federations (IAAF) to decide whether such a punishment was necessary. An independent World Anti-Doping Agency (WADA) commission report has recommended a ban.
Dick Pound, the former WADA president who led the investigation, said such a move would have the backing of the organization and added: "For the 2016 Olympics, our recommendation is that the Russian Federation is suspended.
"One of our hopes is that they will volunteer that so they can undertake the remedial work needed."
But Bach said: "I will not speculate on this. Now we have this inquiry about athletics, the international federation will draw its conclusion and will take the necessary measures.
"I think also that Russia will cooperate to make progress and to be sure that Russian athletics are compliant with WADA. This is what it needs to be in order to participate in the Olympic Games."
Russia's Olympic Committee said it would conduct activities to eradicate doping from sport and work in close collaboration with the IOC, WADA and national Olympic committees from other countries and sports federations.
"We are always open to collaboration with all international bodies and willing to continue comprehensive assistance to any initiatives aimed at eradication of doping," the committee said in a statement.
It also called on the IOC and IAAF not to take measures that would ban Russian athletes who have not been involved in doping from taking part in international competitions.
Bach said he believed Sebastian Coe, the new IAAF president, would "do whatever is necessary" to ensure the sport was cleaned up.
He declined to comment on suggestions that the current situation could indicate the existence of a much wider scale of corruption in world athletics.
"Again, this is speculation," he said. "We should not take clean athletes into suspicion."
On Tuesday, WADA withdrew the credentials of a Moscow laboratory caught up in the scandal.
The report suggested the laboratory had "been involved in a widespread coverup" of positive doping tests and said 1,417 samples which WADA had wanted to be kept were targeted for "intentional and malicious destruction."
The WADA report also referenced allegations made by the Das Erste documentary broadcast by ZDF/ARD last year that payments were made to the lab to cover up positive tests.
Grigory Rodchenkov, who resigned as head of the Moscow lab Tuesday, told CNN's Matthew Chance he had only stepped down to save the facility's reputation.
Meanwhile, former IAAF president Lamine Diack said he had resigned his honorary membership of the IOC.
French police are investigating the 82-year-old over allegations he took bribes to cover up positive drugs tests during his time in charge of the IAAF.
Diack's son Papa Massata, his legal adviser Habib Cisse and Gabriel Dolle, an ex-IAAF anti-doping chief, also are under investigation.
Diack spent 16 years in charge of the IAAF, with his reign ending when Coe was elected in August.
The IOC confirmed it had provisionally suspended Diack.
A statement said: "The executive board decided this afternoon to confirm the proposal of the IOC ethics commission to provisionally suspend Mr Lamine Diack, the former president of IAAF, from his honorary membership of the IOC."
Read: Opinion — Why sport should allow doping
Read more: http://edition.cnn.com//2015/11/11/sport/russia-doping-scandal-thomas-bach-rio-olympics/index.html