Its Worth Going to the US Open Just for the Food This Year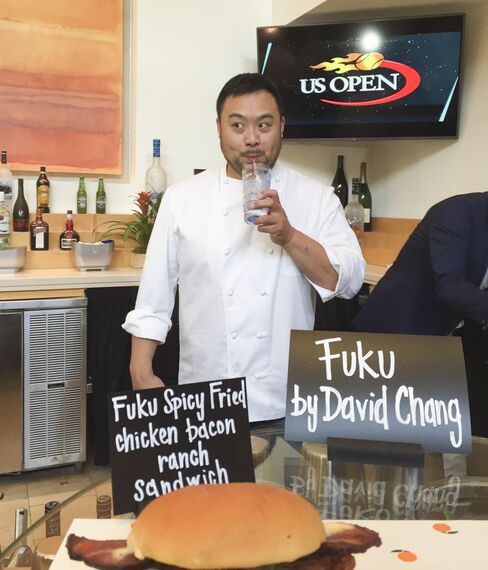 Wimbledon has its Pimms Cups and its strawberriesby the end of the tournament, fans consume almost 31 tons of the fruit each year. At the French Open, people sometimes care too much about the foodduring even the top midday matches, there are empty seats at Roland Garros while spectators focus on their lunch.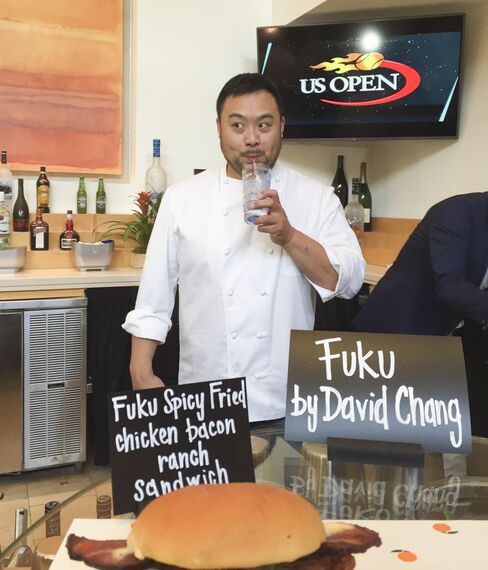 The US Open at Flushing Meadows in Queens has neither a food as signature as a Wimbledon strawberry nor a fan base that will forgo a good match to eatthe closest thing to a food tradition is the Honey Deuce, an easy-to-drink Pimms-like vodka cocktail served in custom-made glasses. (About 275,000 melon ball garnishes are being readied in advance of the first matches, on Aug. 29.)
But this year the Open does have a roster of notable chefs and purveyors, from Momofukus David Chang to sushi maestro Masaharu Morimoto. And beyond the crowd-pleasing lobster rolls and tacos, a bunch of dishes could well cause the kind of line youd find for a Cronut.
Heres a handful of food items, some you cant find anywhere else, that will make this years Open one for the culinary hall of fame:
The Bacon-Ranch Fried Chicken Sandwich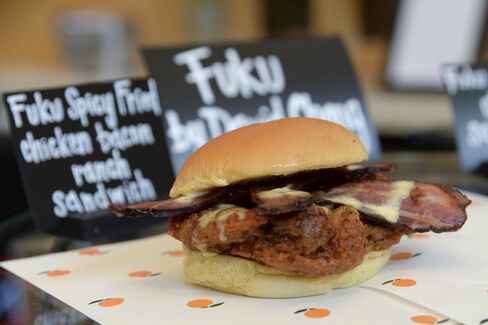 Chang is fast becoming the Colonel Sanders of New York City, with his Fuku fried chicken sandwich empire. For his first year at the Open, the chef is serving his spicy Fuku sandwich, with an embellishment: Hes added strips of crispy, applewood-smoked bacon and a drizzle of ranch dressing on the potato roll. Ive been waiting to put bacon on a Fuku sandwich, Chang told me this week, sipping on a Honey Deuce. While we talked, he came up with a name for the sandwich: the McEnroe. (An old poster of John McEnroe represents the only dcor at Changs 10-year-old Manhattan restaurant, Ssm Bar.)
Penne Amatriciana for a Cause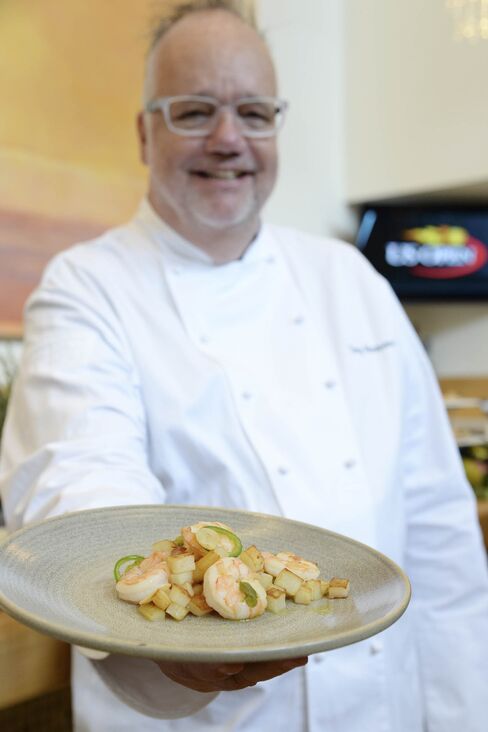 Tony Mantuano, chef-owner of Chicagos formidable Italian restaurant Spiaggia, is a veteran of US Open food service. This year he determined he wouldnt serve pasta at Flushing Meadows unless, rather than using preboiled pasta, he could make each dish to order. He eventually got approval, found someone to make pounds and pounds of fresh penne, and procured a giant, eight-basket pasta cooker. Hes making classic Amatriciana, the porky tomato sauce studded with guanciale and pecorino. (Its the real deal, no onions, he specifies. You add a little pasta water, toss, toss, toss, and you serve.) The Italian town of Amatricethe pastas namesakewas recently devastated by an earthquake, so Mantuano is donating a portion of each pasta sale to help rescue efforts.
Soft-Shell Crab Bocadillo With Crunchy Ramen Aioli
Another Open newcomer is Boston-based chef Ken Oringer. Hes re-creating his beloved restaurant Toro right outside Arthur Ashe Stadium, serving signature dishes such as griddled, garlicky shrimp, patatas bravas, and crazy amounts of Ibrico ham and chorizo, he says. Theres one dish Oringer has never served before: a crispy fried soft-shell crab bocadillo (aka sandwich) with crunchy ramen sauce. Earlier this year, Oringer opened Toro in Bangkok; this dish is an homage to the influences hes been picking up.
Grilled Chicken-and-Pepper Heroes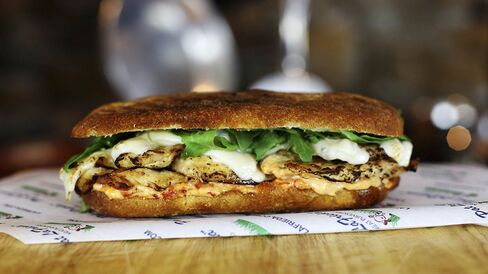 Chicken sandwiches are clearly driving the day at the Open. Meat impresario Pat LaFrieda used to have a tiny kiosk at the tournament. This year hes graduated to a large, fancy stand on the South Plaza, with tables in front of the Arthur Ashe Sculpture Garden. He describes it as big as a tennis court. Bigger. LaFrieda is specializing in sandwiches, including one piled high with seared filet mignon, and another stuffed with meatballs in sauce and a swath of ricotta. But his favorite is a new one. Last year, I wasnt content with our food, he says. It was good. Now its amazing. Hes talking about his grilled chicken with melted cheese and sweet, spicy Peppadew peppers in custom-made Balthazar rolls.
Read more: <a href="http://www.bloomberg.com//news/articles/2016-08-26/it-s-worth-going-to-the-us-open-just-for-the-food-this-year">http://www.bloomberg.com/</a>